Change the Story of Your Health
Change the Story of Your Health:
Using Shamanic and Jungian Techniques for Healing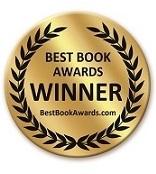 Award Winner in the "Health: Alternative Medicine" category of the 2017 Best Book Awards

Winner of a Beverly Hills Book Award in the Category of Well-Being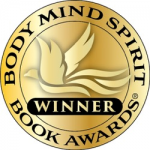 Winner of a Body, Mind, Spirit Book Award in three categories: Energy Healing, Gaia and Earth Energies, and Shamanism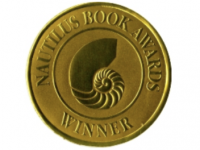 Winner of a Nautilus Book Award for the Best of Small Press
The story of our health is more in our control than we might think, according to clinical psychologist, Jungian analyst, and shamanic practitioner Carl Greer, PhD, PsyD. We can not only reframe our experiences but actually experience less stress, greater well-being, and even better physical health than it might appear if we are willing to identify our health story and begin rewriting it.
Through journaling exercises and expanded-awareness practices, many of which involve working with and in nature, and which are influenced by Jungian and shamanic traditions, anyone can tap into hidden resources for healing and work with them effectively. Whether gaining insights and balancing energies outdoors, dialoguing and interacting with the earth or a river or lake, or working with dreams, an inner healer, or a symbol encountered on a shamanic journey, readers will find they are able to learn why they have struggled to change their habits and will be empowered to experience greater wellness within a satisfying health story.
Change the Story of Your Health focuses on four key chapters of a person's health story:
Eating and drinking, and weight
Movement/exercise, flexibility, balance, stamina, and strength
Sexuality, body image and acceptance, and changes due to midlife hormonal shifts (commonly known as menopause and andropause)
Management of an acute ailment or symptoms of a chronic condition
It also helps readers revise their health stories as their health changes as a result of aging or unexpected challenges.
Gaining insights into their health, letting go of what is standing in the way of optimal health and well-being, and bringing in what is needed to make a preferred new health story a reality—all are possible when readers take on the challenge of "Change the Story of Your Health" and begin using the practices regularly.
Praise for Change the Story of Your Health:
Do you want to improve your health? Manage a chronic condition or figure out how to cope with a sudden health issue, like an accident or illness?
"(Change the Story of Your Health) is the kind of book that could be life-changing and truly healing."
—New Spirit Journal
In the award-winning, best-selling Change the Story of Your Health: Using Shamanic and Jungian Techniques for Healing, author, clinical psychologist, shamanic practitioner, and Jungian analyst Carl Greer, PhD, PsyD shows how we can identify our health story and use journaling and expanded-awareness practices to begin changing it, leading to better health and wellness.
"For those willing to listen, an abundance of help can be found here."
—Publishers Weekly
A companion to his best-selling and multiple-award-winning Change Your Story, Change Your Life, the book teaches readers how to use shamanic and Jungian techniques to gain insights and energies for changing a dissatisfying health story. Many of the exercises involve shamanic journeying or working in and with nature: dialoguing and interacting with the earth, a river, the wind, or a fire. Others require engaging and working with the chakras, dreams, symptoms, or the inner healer.
No matter what your health concern, you will find in this book tools for writing and bringing to life a new health story.
"Readers seeking to explore new ways to develop inner calm, balance, self-love, and optimal physical health should find this approach refreshing and full of possibilities."
—Kirkus Reviews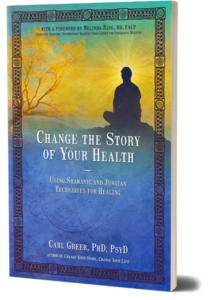 One hundred percent of the author's proceeds for his books go to various charities via The Greer Foundation.
Also available as an audiobook from Tantor Audio, narrated by Paul Brion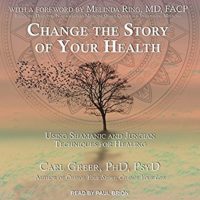 More of what reviewers say about Change the Story of Your Health by Carl Greer, PhD, PsyD:
"Whatever health situation you might be facing, Change the Story of Your Health can help identify your health story . . . It's the kind of book that could be life-changing and truly healing."
—Krysta Gibson, New Spirit Journal
"In this guide to improving wellness, the author suggests new frameworks for mentally and emotionally relating to health.
Greer (Change Your Story, Change Your Life, 2014) focuses this book on the thoughts and feelings associated with health conditions and goals—not the physical realities. An experienced clinical psychologist, he suggests Jungian and shamanic practices as mainly enhancements to health treatments, not replacements. But in this guide, he artfully illustrates the power of imagination, attitude, and narrative in the way a human approaches, overcomes, or lives with medical conditions. Exploring the chakras and their links to certain physical sensations or discomforts, the author suggests emotional connections that may influence physical conditions in certain areas of the body. For example, the fifth chakra, which is associated with the thyroid and throat, is also linked to speaking truths and communicating. Difficulty swallowing, sore throats, thyroid problems, and vocal cord conditions can be associated with suppressing emotions or having trouble interacting. Greer suggests that practices aligning and balancing the chakras can ease these discomforts. In addition, the author uses anecdotes about patients who alleviated certain physical conditions—like rheumatoid arthritis—by releasing repressed emotional energy, such as anger at a spouse, rather than bottling up the feelings. Unlike other books of this genre, Greer's well-researched work suggests 'revising' the story of one's health. Stories, he explains in this quiet and medically sound guide, define individuals' lives and their beliefs about themselves. People hold stories subconsciously that they must break out of and rewrite in order to make changes. He suggests working with dreams, archetypes, symbols, and conversations with different embodiments of source energy to ground individuals and revise the stale stories about who they are. Readers seeking to explore new ways to develop inner calm, balance, self-love, and optimal physical health should find this approach refreshing and full of possibilities.
An appealing, helpful, and intriguing new approach to dealing with physical limitations and conditions."
—Kirkus Reviews
"Greer (Change Your Story, Change Your Life) shares his knowledge of shamanic and Jungian healing techniques in straightforward terms that relate to being connected with spiritual and natural energy fields. Throughout the book, Greer encourages readers to write their own health stories in order to address elements of their lives that hinder a healthy lifestyle and impede transformation. He provides many exercises for connecting with energy fields and raising spiritual awareness, as well as stories of people he's worked with who have undergone common and uncommon transformations. In addition to meticulously delineating the contexts and origins of various patient ailments, Greer discusses the benefits he says are provided by Jungian and shamanic healing. This book is not a quick read, nor is it intended to be; in order for one's health story to be improved, the shamanic and Jungian techniques learned by reading this book are intended to be used together, which can take some time. Greer is an encouraging guide, instructing readers to refrain from rushing and only continue through the exercises when ready. For those willing to listen, an abundance of help can be found here.
—Publishers Weekly
"Change the Story of Your Health: Using Shamanic and Jungian Techniques for Healing discusses alternative medical traditions that inject spirituality into the overall fields of physical and mental health, and comes from a clinical psychologist and Jungian analyst who has used these techniques, in conjunction with Western medicine, to help his own physical ailments and those of his clients.
While a growing number of alternative medical books add a spiritual dimension, what is unusual in Change the Story of Your Health is its blend of specific Jungian techniques with shamanic approaches usually regulated to new age audiences; all this bundled with an attention to physical and personal health challenges that range from the effects of aging to sexuality and serious health ailments.
Chapters advocate a series of practices designed to manage and mitigate these various obstacles to mental and physical health, and so readers receive the tools and specific exercises to incorporate new lifestyles, exercise, meditation and reflective strategies into their overall health routines.
The focus is on identifying blocks to health, more fully understanding one's current state of health and the keys to maintaining or improving it, and on applying journaling and dialoging techniques to expand self awareness and tap inner resources for healing.
An affinity for self-examination, self-directed exercises, and Jungian and shamanic approaches alike will be a prerequisite for successfully utilizing this book. Readers determined to take charge of their path towards optimal health will find Change the Story of Your Health contains a treasure trove of step-by-step processes designed to lend insights into and modifications of overall health and approaches to life."
—Midwest Book Reviews California Bookwatch
"For anyone looking for how to cope with health issues, including an accident or recent illness, Change the Story of Your Health is a valuable resource. As a Jungian analyst, Carl Greer guides us how to unfold the power of our health story through journaling and expanded awareness practices to contact our 'inner healer.' He also recommends shamanic journeying, working with nature, dreams, and the chakras. In the chapter 'Consciousness, Energy and the Body,' he writes about the emotional stressors such as thoughts that trigger fear, anger, tension, and emotional problems that disturb the physical body that can be helped through shamanic practices. He encourages readers to 'write out the story of your health' which includes good habits, challenges, connections, partnering, family history, stress, goals, themes and concerns about mortality, and how to 'revise the story' as time passes, the body ages, or new health issues arise. He recommends using the expanded-awareness practice of dialoging in relationships and groups to help create a healing environment or community.
—Light of Consciousness magazine 
"(Change the Story of Your Health) offers a unique approach to self-exploration and healing. Drawing from traditional Shamanism and Jungian principles, Greer captures the essence of connecting with nature and tapping into a greater spiritual awareness. Written in an informative yet accessible way, he reveals what he has learned on his health journey in the hopes that it will inspire and motivate others.
Whether you're looking to maintain wellness as you age, manage a chronic illness or simply improve your overall well being, this book will guide you every step of the way. As a clinical psychologist, Jungian analyst and shamanic practitioner, Greer provides a fresh perspective on Shamanism and Jung's ancient wisdom, and gives the reader practical tools they can apply to their everyday lives."
—Rose Caiola, Rewire Me magazine
"Carl Greer offers an interesting and original perspective on what it takes to be healthy and even to turn around states of ill health. The author is a fascinating combination of clinical psychologist, Jungian analyst and shamanic practitioner, and it's the mind-magic synthesis of these skills that makes this book so unique and useful. The first step is for the reader to understand what beliefs they have – their story – that might be determining their physical and emotional challenges and how they play out in their body and their health.
To arrive at an understanding of what is going on under the surface of our conscious mind, Greer suggests a number of techniques, including meditation and journaling, as well as detailed questionnaires to lead the reader through an exploration of his or her own issues. The underlying message is that one first needs to understand how you got to where you are and then take responsibility for reframing your mind/story in order to open the way towards regaining your health. There are obviously many factors that play into one's state of health, however Greer makes a very powerful case for the most important one of these being one's beliefs.
Shamanic techniques like journeying and connecting with the healing power of nature are also described in detail, as is the very sensible observation that as time passes your health story does change. How rapidly and in what direction is, he suggests, up to the individual. It's all a matter of choice, focus and practice."
—New Consciousness magazine
"Greer demonstrated in his first book, Change Your Story, Change Your Life, that our personal stories not only affect our lives but are very often written by family, environmental influences, and cultural context. Now he is applying that concept to physical health. As Baby Boomers age, health issues loom large on the world stage. Recognizing that this is the group that learned to meditate (in large part) because of the Beatles, he has merged his business acumen, clinical Jungian training, and shamanic experience into a healing protocol that will appeal to that market and the progeny that they have raised. He is telling them that if they change the story that they tell about health and wellness, they can change they way they experience those things in the physical world."
—Anna Jedrziewski, Retailing Insight
"In Change the Story of Your Health, clinical psychologist Carl Greer explains how to create a transformative health story using shamanic and Jungian techniques. The unconscious power of stories unlocks opportunities for healing as well as improved vitality, confidence, and stamina. 'Always remember that you are the storyteller,' writes Greer, 'and you do not have to live according to the dictates of a story written for you by your DNA, your past experiences and actions, or your cultural conditioning.'
Greer recommends writing the story of your health by focusing on four health chapters or themes: eating, drinking, and weight; movement and exercise; sexuality, body image, and body acceptance; and symptom management for chronic health conditions. For each chapter, he poses a page-plus of questions to expand thinking about the theme.
Next, the deep work begins. Exercises based on shamanic and Jungian archetypes are described to encourage greater health insights. These include working with elements in nature; dialoguing with figures, symbols, and spirit animals; and dream work. Preparation is discussed, and journaling afterward to bring the story to life is recommended.
Despite its use of alternative techniques, the book is practical, and is presented in a straightforward manner. Mini case studies show others' experiences with the energy exercises, and the changes they made as a result. Greer makes clear that the intention of this work is to complement and enhance, not replace, western medicine. He recommends that clients check with a medical doctor as symptoms are uncovered, and he relates some of his own health challenges. Learning about the latest research, assistive devices, and medical interventions is encouraged.
The work described here will take time, but anyone interested in improving health challenges or who is curious about alternative healing techniques will find this to be an insightful guide."
—Karen Ackland, Foreword Reviews

"Throughout Change the Story of Your Health, Carl weaves in true stories from his patients, journal prompts, and instructions for shamanic journeys, providing a practical guide to understanding your relationship to your health story. … Readers who are willing to open their hearts and minds to the potential for new learning can transform stories about themselves that no longer serve them into new stories of wholeness and possibility."
—Melinda Ring, MD, FACP, Executive Director, Northwestern Medicine Osher Center for Integrative Medicine

"It is a singular pleasure to call attention to Carl Greer's remarkable melding of Jung's analytical psychology and the ancient, and global, traditions of shamanic healing. His commitment to bringing the resources of both these traditions to a larger audience is reflected in his accessible and compelling reflections on the ways in which the stories we tell ourselves about ourselves shape the lives we live. In today's world, Carl Greer's work provides much-needed guidance for a more fulfilling and healthy way of life."
—George Hogenson, PhD, Jungian Analyst, and Author of Jung's Struggle with Freud

"Change the Story of Your Health is suitable for novice and experienced seekers alike. Reading it and using its techniques can serve as a first step in changing our relationship to our lives and our health."
—David M. Steinhorn, MD, Professor of Pediatrics

"Change the Story of Your Health is beautifully written and a gem for any reader who is looking to empower themselves, their health and their lives. Read this book and change your story."

—Eva Selhub, MD, author of Your Health Destiny and Your Brain on Nature

"Carl Greer, PhD, PsyD, brings us another brilliant book, helping us become aware of the story that impacts our health and rewrite it so that we achieve healing and well-being. This book will open myriad possibilities for you to discover and work with your inner healer. I highly recommend Change the Story of Your Health for anyone who seeks to regain health and balance in our changing world."

—Sandra Ingerman, MA, Author of Soul Retrieval and Walking in Light

"As a physician I know all too well that many patients have health concerns due to inner factors that have not been addressed by conventional Western medicine. In Change the Story of Your Health, Dr. Greer presents insightful self-healing measures from alternative medical traditions that will truly transform your personal health and well-being."

—Susan F. Reynolds, MD, PhD, President and CEO, The Institute for Medical Leadership
Using Shamanic and Jungian Techniques for Healing
* * *
Acknowledgments
Preface
Introduction
Chapter 1: Your Health Has a Story, and You Are the Storyteller
Chapter 2: Consciousness, Energy, and the Body
Chapter 3: What Is the Current Story of Your Health?
Chapter 4: Expanded-Awareness Practices for Gaining Insights and Energy
Chapter 5: Write a New Story of Your Health
Chapter 6: Nature's Healing Effects
Chapter 7: Working with the Healing Elements of Nature
Chapter 8: Revising the Story of Your Health
Chapter 9: Healing Partnerships and Communities
Afterward
End Notes
Bibliography
Sign up for announcements
Receive the latest announcements from Carl Greer and a FREE audio guided visualization, "Healing with the Help of the Earth," from Change the Story of Your Health.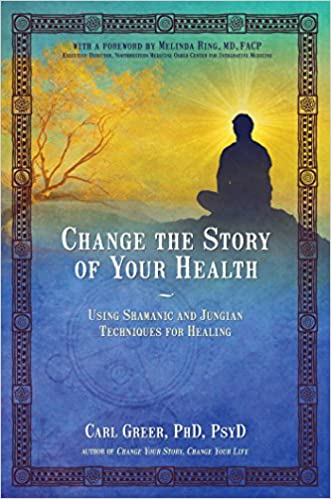 Change the Story of Your Health
Using Shamanic and Jungian Techniques for Healing. Winner of 4 book awards and a bestseller.
"The kind of book that could be life-changing and truly healing." - New Spirit Journal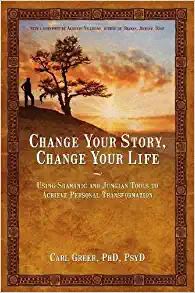 Change Your Story, Change Your Life
Winner of 3 book awards and a bestseller.
"Much more than a 'quick fix' self-help book, containing a profound range of tools and exercises. Articulate and easily understandable, Change Your Story, Change Your Life provides an excellent inspirational guide to personal transformation." - Indie Shaman